Masks, Media and Music: Cultural Influence and the Process of Curation
Afrofuturism
, a term coined in 1993, is a deep creative tradition that explores the projection of black futures as a response to issues and challenges faced by members of the African Diaspora. The current political climate and the rise of automated technology have given this particular historical moment a certain sense of anxious trepidation. If history is a nightmare from which we are trying to awake, then that may explain the inherit nervousness we possess as we consider the general path of our cultural trajectory. For the most part we are healthier and living longer, yet we are exceedingly unsure as to how to navigate a sea of conflicting choices, ideas and lifestyles. An examination of our cultural myths, along with an understanding of our future aspirations along with a re-commitment to music and rhythm can offer a valuable perspective shift as we prepare ourselves to move forward.As an artist, designer and curator I'm interested in the exploration of futurist themes and often explore ways in which technological innovation is changing the landscape of art and culture. I'm interested in how conflict can help foster creative opportunities for dialogue across themes, genres, mediums and diverse art making methods. This melange of ideas and concepts spearheaded the creation of a group art exhibition, titled MythoFutuRiddim [mytha-foochu-riddim], which featured work and performances by emerging artists who are exploring ritual, cultural mythology, Afrofuturism and constructed identity. The aim of the exhibition was to examine the underlying complexities inherit in making work that deciphers the African Diaspora experience. The exhibition took place on July 13, 14 and 15 at the gallery space at 100 Bogart, Brooklyn, NY 11206. Participating artists were portraitist
Harlan Ballogg
, painter/illustrator/animator
Pixel the Artist
, Transmedia artist
Wi-Moto Nyoka
, and installation artist
Bree Person
.
One aspect of Afrofuturism is that it explores the developing intersection of African Diaspora culture with an examination of past histories and future possibilities. MythoFutuRiddim, an as extension of Afrofuturism, moves through that intersection to explore how Art is influenced by Cultural Mythology, Futurism, and Riddim/music.
Mythology can be defined as the body of myths dealing with gods, goddesses, demigods and legendary heroes of a particular people. Mythology/Spirituality is a major component in the extensive African Art tradition. The reclaiming of lost identities or lost perspectives that have been forgotten, subjugated, subverted or overlooked is another key theme in Afrofuturism. In our exhibition, we consider the effects of Cultural Mythology, and ask, "What positive and negative traditions have been passed down through various themes, legends and stories?" Furthermore, we explore how Art can help us locate, create and resurrect positive mythologies, stories and traditions.
As we look to the past to restructure Mythological influences, we are also concerned with remaining committed to the construction of positive futures. Our exhibition deals with aliens, space travel, technology, and artificial intelligence. Our work envisions fresh, optimistic and abundant futures where imposed limitations are minimal and cultural obstacles have been overcome and/or eliminated.The last section of the term MythoFutuRiddim refers to
Riddim
, or the Jamaican Patois pronunciation of the English word "rhythm". In the tradition of art from the African Diaspora, work isn't necessarily made for the quiet halls of a gallery or museum. Rather Art, and Art objects are an integral part of musical and dance performances. The participating artists in the exhibition all use music within their actual work or as a large part of their creative process. As MythoFuturRiddim, the term blends different concepts into one word, our exhibition is also an extended cultural mashup of juxtaposed movements, sound, rhythms, beats and songs.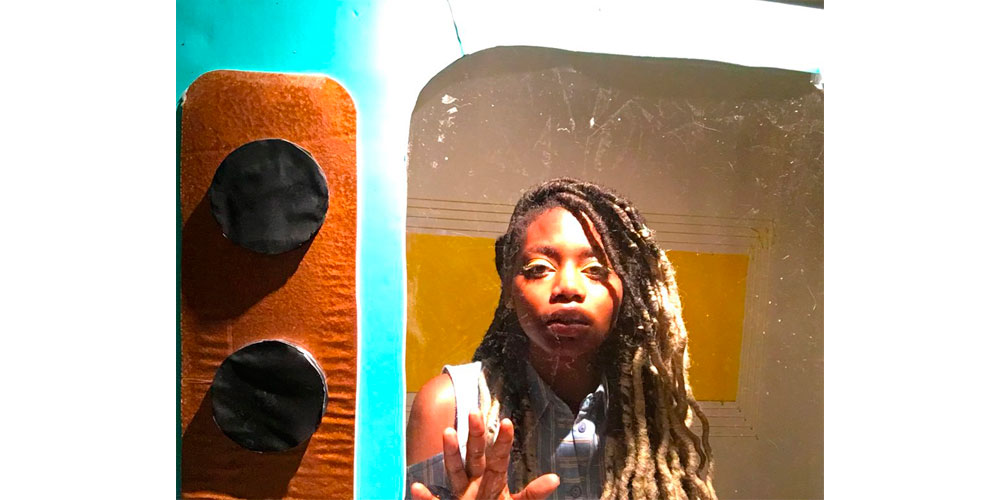 We hope we were able to see you in Brooklyn over the course of the exhibition. View our
exhibition page
where we've compiled our work and documented the vibrant community dialogue which centered around the show's fundamental issues; spirituality, innovative art, disruptive technological advances and new captivating music.